Church of the Assumption of St Mary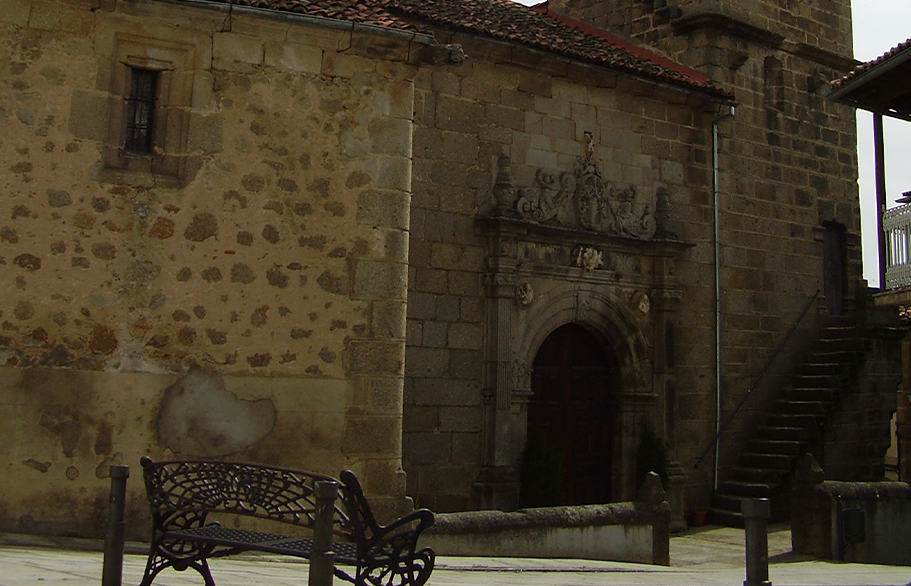 The church of the Assumption of St Mary was built between the 16th and 17th centuries and was listed as a Historical-Artistic Monument in 1982.
Most noticeable on the outside is the tower built with ashlar, which begins square and changes to a rhomboid in its second body, adorned with scales and heraldic motifs.The lower body is unusual because it has an outside staircase that varies the profile of the tower in its north-east corner, where stepped endings have mouldings.The curious top of the tower is formed by four Herrerian pyramids that support two arches that cross in the middle.
It is worth viewing the north door, in a curved arch flanked by pillars on which a marble relief displays a Marian emblem (vase with lilies) and flowers on each side. At the top, medallions of St Peter and St Paul are next to a relief of the Assumption of the Virgin.
Inside the church, an altar in the classic Baroque style was made by the sculptor Diego de Salcedo in 1612 and the organ with a Baroque box is dated in the 18th century.
The main altar from St Catherine's church was moved to St Mary's some years ago. It is in a plateresque style, with panels and paintings, and the tabernacle and image of St Catherine in the centre. The 17 paintings are divided into vertical series or four with three at the sides and three at the top. Fourteen are old panels of Castilian schools belonging to the Renaissance and the other three are painted on canvas and are more modern.
The main cycle in the altarpiece refers to the life of Christ in a peripheral circular sequence that starts in the lower panel on the right, representing the Adoration of the Magi. It continues on the left, with the Flight to Egypt and above this the Capture and the Flagellation. The Crucifixion is at the top and the cycle finishes on the right with the Resurrection. Within this group a pictorial allusion is made to the martyrdom of St Catherine, while a niche contains a sculpture of the Martyr-Saint of Alexandria with her most common emblematic symbol, the toothed wheel.
Several representations of saints are added to this repertory. Paintings of St John the Baptist and St Dominic are on the right at the top, St Lucy and St Andrew in the centre, and a sculpture of St Paul at the bottom.  On the left, paintings of St James and St Francis are at the top and a sculpture of St Peter at the bottom. The St Catherine altarpiece is dated in the first third of the 16th century.