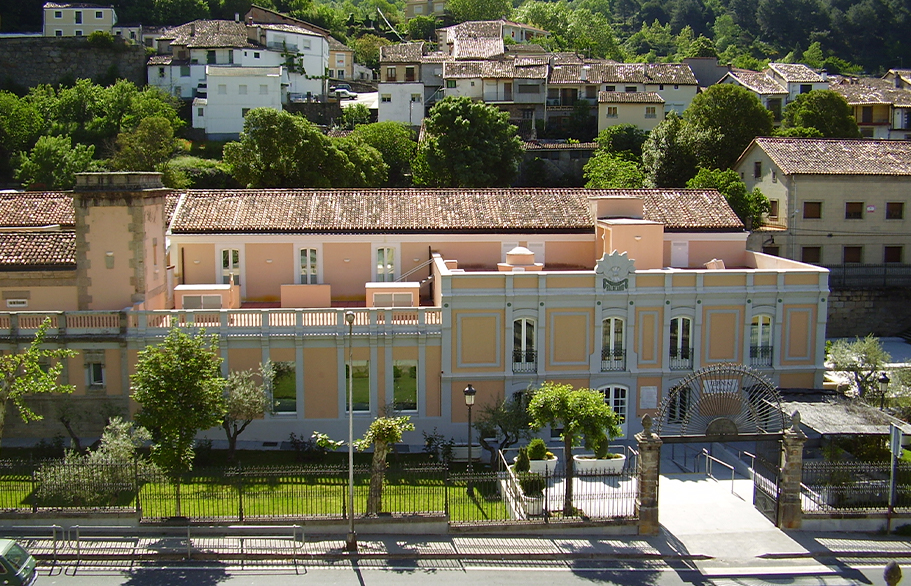 In the 18th century, José González Laso, Bishop of Plasencia, carried out major building projects in the area, including the restoration of the Spa, which was later continued by Juan de Porras y Atienza, Bishop of Coria. The first building for the spa, whose brick vaults are still preserved, was built in that time.
The 19th century was the time of the greatest popularity of the spa, and a new building was constructed for it as well as a hotel. Baños de Montemayor became a holiday resort and summer residences were built in the architectonic styles of the time.
The hot springs are undoubtedly the elements that have most contributed to the fame of Baños de Montemayor. The sulphated, sodium and oligometallic water flowing from two springs near one another, called Column and Arqueta, has a temperature of 43°C. The water is suitable to treat rheumatological processes, arthrosis and breathing problems, and also to tone and embellish the skin.
The spa is now regarded as one of the most advanced and modern in Europe. It offers a wide range of treatments, both therapeutic and for relaxation and beauty, together with an array of hygiene and beauty products made with the spa water.
Curiosities
The spa at Baños de Monte mayor belongs to the inhabitants of the town. You only need to be on the town census for six months to belong to PROBAÑOS (Association of the Owners of Baños Spa), whose committee is elected by the inhabitants every four years and which is in charge of managing the spa activity.
Baños de Montemayor possesses one of the oldest foundations in Spain: the Doctor Juan Flores Rengifo Foundation. It was formed in 1635 on the death of the doctor, who stipulated that all his properties should be used for humanitarian and social causes, which the foundation has been doing ever since then.